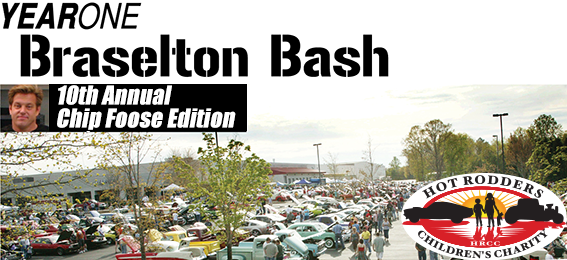 10th Annual Chip Foose Edition Braselton Bash
Saturday, September 19th, 2015  at YEARONE in Braselton, Georgia (Rain or Shine)
Join us September 19, 2015 when YEARONE and The Hot Rodders Children's Charity once again team up with automotive guru and television star Chip Foose for a very special Braselton Bash event. Always the highlight of the Braselton Bash season, the Foose show should be on your "Don't Miss" event list for 2015! As always, thank you for your support of the HRCC.
Activities Include
Foose Select Car Show

Participant Vote Car Show

Silent Auction
Kids Area
Burn Out Exhibition
Foose Select Car Show Group:
$100 entry (part # BBFSG). The Foose Select Group is limited to the first 100 vehicle entries at a cost of $100 per vehicle. A photo is taken with the entrant's vehicle and Chip. Vehicles should be ready for judging prior to entering photo area. The Foose Select Group will have a special parking area. Chip will be choosing one vehicle as the Chip Foose Select Award Winner. The winner will have their vehicle sketched by Chip Foose and an invitation to attend dinner plus one with Chip and Kevin King Sunday night, September 20, 2015. Purchase your spot now by phone at 1-800-932-7663 or at the YEARONE parts counter until Friday, September 11. On the day of the show we will be selling the tickets at the gate until they run out (max 100).
Participant Vote Car Show Group:
$20 Entry (available day of show). The Best of Show winner is decided by participant vote. The Best of Show winner receives an invitation to attend a dinner with Chip Foose and Kevin King (President of YEARONE) on Sunday night September 20, 2015. The remaining 9 of the top 10 will be awarded a $50 YEARONE gift certificate.
Show Hours – *Subject to change
Participant Vote Group Car Show:                                        Noon – 7:00PM
Foose Select Group Photo:                                             8:30AM – 10.00AM
Foose Select Group Car Show:                                             Noon – 7:00PM
Silent Auction:                                                                9:00AM – 5:00PM
Autograph Session:                                                         1:00PM – 5:00PM
Chip Foose Autograph Procedure:
Obtain a numbered Chip Foose autograph card from the DJ booth. Groups of numbers will be called periodically throughout the allotted autograph session time. Please listen closely to the PA announcements for number groups to be called.
Only enter the autograph line after the group that contains the number on your card has been called. Chip will sign as many cards as possible within the allotted time, but possession of a card does not guarantee an autograph. *Autograph session time is still to be determined.
Only this card and an event T-shirt can be autographed. No other items will be autographed – please do not bring other items into the line.
Sketches may be requested. Please note that sketches will only be done on the event T-shirt and require a $100 donation to the HRCC at time of the sketch (cash or check only).
Only cardholders will be allowed in the autograph line, and only one card per person please.
Car Show Pricing (free for spectators)
Participant Vote Group:       $20 per vehicle
Foose Select Group:           $100 per vehicle. To pre-register for the Foose Select group, order part# BBFSG
Can't Participate in the Event?
You can still be apart of the cause by making a charitable donation. Links are provided below for your convenience.
Thank you to our Braselton Bash supporters: