It's a crate engine world these days – and with good reason. For most enthusiasts, powering their project with a crate engine saves time, money and hassle versus locating and rebuilding a suitable core powerplant.
As a leading provider of restoration and performance parts and accessories for all manner of performance vehicles, YearOne has recognized the important role crate engines play in the hobby today. Fittingly, the company has just released two new 400+ horsepower small-block Chevy crate engine choices that provide the power levels enthusiast's crave backed up by solid warranties all at an outstanding price.
Premium components such as Edelbrock aluminum or Dart cast iron heads, hydraulic roller cams and 4-bolt, one-piece rear-main blocks are used in the YearOne crate engines. Streetable compression ratios allow the use of today's fuel with no problems, and the engines make suitable vacuum so accessories such as power brakes will function correctly. Each engine is fully dyno-tested prior to shipping and includes a dyno data sheet showing the specific power made by the unit, and the components used during testing. Backing all this are 12- or 24-month warranties with pricing that is exceptionally aggressive considering all that's being offered in the engines.
Quality components, 400+ dyno-tested horsepower, solid warranties and great pricing all from an industry leading supplier – it's a crate engine world and YearOne is helping ensure it stays that way.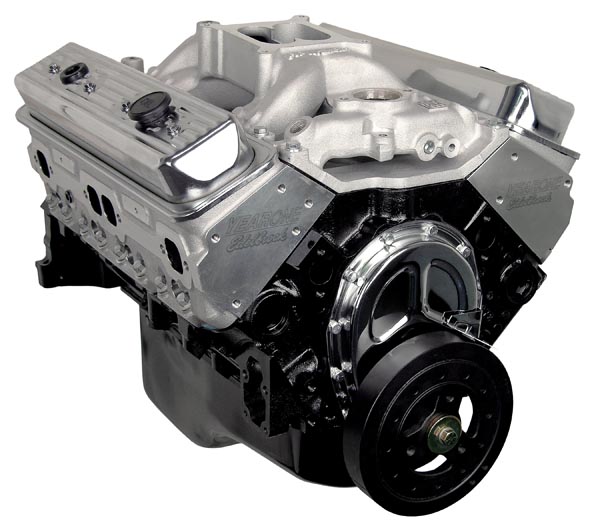 Engine Specifications:
YearOne PowerCrate 350 with Edelbrock E-Tec aluminum heads
Part # AT350PC1
* Horsepower: 400+
* Torque: 400+ ft/lbs
* Compression ratio: 9.7:1
* Dyno-tested: Yes, includes 8″ balancer & 14″ flexplate
* Dyno sheet: Included with engine's output
* Vacuum produced: 12hg @ 800RPM
* Recommended fuel: 92 octane
* Max recommended RPM- 5800
* Block: Seasoned 4-bolt iron
* Crankshaft: OE cast iron
* Pistons: Hypereutectic
* Connecting rods: Powdered metal
* Camshaft- Hydraulic roller with YearOne proprietary specifications
* Rocker arms: Stamped steel 1.6:1 ratio
* Cylinder heads: Edelbrock E-Tec
* Valves: Stainless steel 1.94 int/1.55 exh
* Valve springs: Heavy duty
* Intake manifold: Edelbrock E-Tec dual-plane aluminum
* Oil pan, timing cover, valve covers included
* Engine fasteners: High tensile strength
* Warranty: 24 mth/24,000 mi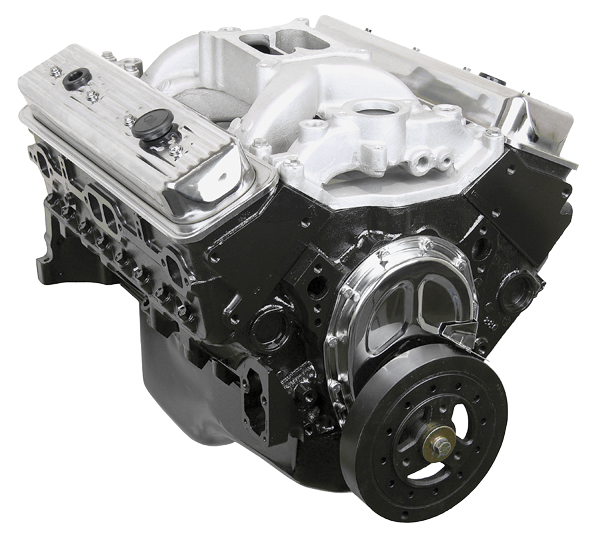 Engine Specifications:
YearOne PowerCrate 350 with Dart Vortec iron heads
Part # CT350PC1
* Horsepower: 400+
* Torque: 400+ ft/lbs
* Compression ratio: 9.7:1
* Dyno-tested: Yes, includes 8″ balancer & 14″ flexplate
* Dyno sheet: Included with engine's output
* Vacuum produced: 12hg @ 800RPM
* Recommended fuel: 92 octane
* Max recommended RPM- 5800
* Block: Seasoned 4-bolt iron
* Crankshaft: OE cast iron
* Pistons: Hypereutectic
* Connecting rods: Powdered metal
* Camshaft- Hydraulic roller with YearOne proprietary specifications
* Rocker arms: Stamped steel 1.6:1 ratio
* Cylinder heads: Ported Dart Iron Vortec
* Valves: Stainless steel 2.02 int/1.60 exh
* Valve springs: Heavy duty
* Intake manifold: Dual-plane aluminum
* Oil pan, timing cover, valve covers included
* Engine fasteners: High tensile strength
* Warranty: 12 mth/12,000 mi