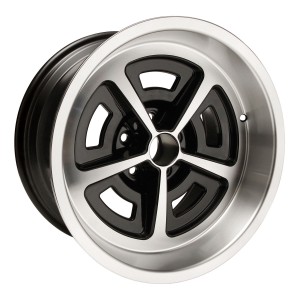 Muscle car parts supplier YEARONE has started a tradition of releasing new wheels based on classic designs from the muscle car era updated with modern materials and sizing. The success of the program has led to yet another iconic wheel getting the YEARONE treatment.
The newest wheel to be updated is based on the Magnum – a design so popular it was used by all of the Big Three throughout the muscle car period. Of course, as cool as the original wheel was, YEARONE has improved it by casting it in aluminum (the originals were stamped steel) and offering it in a modern 17-inch diameter with both 8- and 9-inch widths available. Further, the YEARONE Magnum is offered in 4.5" bolt patterns (used on Mopar and Ford products) as well as the 4.75" pattern favored by GM. Multiple backspacings are also available.
Updating the material to aluminum saves unsprung weight while increasing the size allows the use of modern tires and increases room for bigger brakes used by today's builders. With a machined finish accented by black powdercoated recesses, the wheels accept original center caps and lug nuts for an authentic yet modern look.
The cherry on top of all this coolness is the extremely affordable pricing. For ordering and pricing information on the Magnum 500  wheel individually and wheel sets, call 1-800-YEARONE  or visit www.yearone.com.