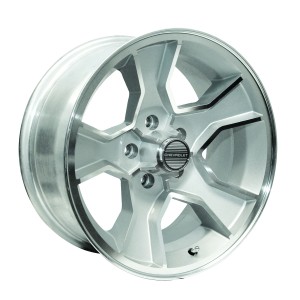 Updating classic wheel designs is rapidly becoming a YearOne tradition, and once again the company has taken a well-known wheel from the past and upgraded it for use with today's latest car-building trends.
The Chevy "N90" wheel was a popular option on late second-generation Z28s and was the aluminum wheel used on the hot-selling Monte Carlo SS cars through the mid-80s. While the design of the wheel is great, the original 15" diameter makes the wheel look dated. YearOne solves this problem by introducing the N90 design in a modern 17×8 size with backspacing of 4.25" or 5". The 17-inch diameter allows the use of modern performance tires while also clearing most modern brake setups. The 8" width allows the wheel to fit the G-body Monte Carlos as well as the F-body Camaros with no issues. The cast aluminum wheels are powder-coated silver with machined edges and outer lip.
The new reproduction wheels are available individually, or as sets complete with center caps and lug nuts. Visit YearOne.com for current part numbers and pricing information.