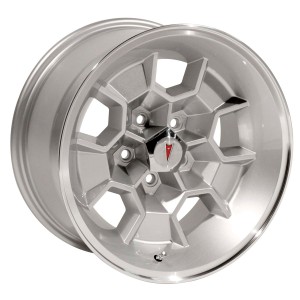 YearOne continues to expand on its line of updated classic muscle car wheels, this time turning attention to an iconic Pontiac offering. The original "Honeycomb" wheel was offered in 14" diameters for 1971-72 GTOs and 15" diameters for 1971-76 Firebirds and Trans Ams. Another unique aspect of the Honeycomb is the fact that it was a "polycast" wheel, meaning a steel core was covered with a heavy rubber outer layer. Innovative, to be sure, but unfortunately the end result is rather heavy.
YearOne solves all these problems by introducing their new cast-aluminum Honeycomb wheel in modern 17"x9" sizing. The wheels feature silver powder-coated centers for durability, and have 5" backspacing to ensure a proper fit on 1968-72 era Pontiac A-bodies and 1970-81-vintage F-bodies. The wheels accept the original Honeycomb center caps, and use standard conical-seat lug nuts.
For ordering and special introductory pricing information on the Honeycomb wheel individually and wheel sets, call 1-800-YEARONE  or visit www.yearone.com.