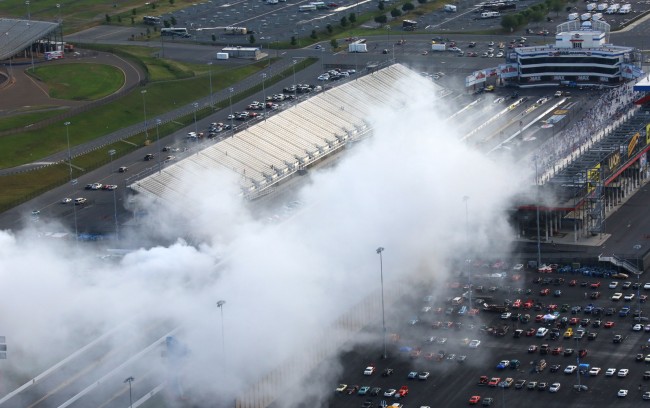 Burnouts and hot rods are as American as apple pie and baseball. So imagine our disappointment when we learned the record for the largest simultaneous burnout, according to the folks at Guinness anyway, was 69 cars and was held by a group of gearheads from Australia! Hey, we don't have anything against Australians, but that just won't do.
So we had an idea. What if YEARONE and Hot Rod teamed up on the Power Tour and organized an attempt to restore the record to its rightful owners – good, ol' American hot rodders? Sounded like a good plan to us, and that's what we did.
The last stop on the 2013 Hot Rod Power just happened to be at the oh-so-cool zMax Dragway in North Carolina – home of the 4-Wide Nationals. What better place to restore the proper order of the burnout universe than a drag strip where four Top Fuel cars can race at the same time? It was fate and karma and divine providence all rolled into one smoky, tire-shredding package. Best of all, the good folks at zMax actually agreed to let a whole bunch of cars smoke up their place.
And on June 7th, 2013, America took its rightful place back on top of the burnout mountain when no less than 73 cars (and maybe as many as 79) heated the hides at the same time. The record is still listed as unofficial since it's awaiting certification from the Guinness World Record folks. But that's just a formality – the record is back in the States and that's what matters.
Check out the official Hot Rod video of the for-the-time-being unofficial World Record for the Largest Simultaneous Burnout here.
And stay tuned – we fully expect the Aussies to try to take the record back. But for now, the USA is the King of Burnouts. As it should be.